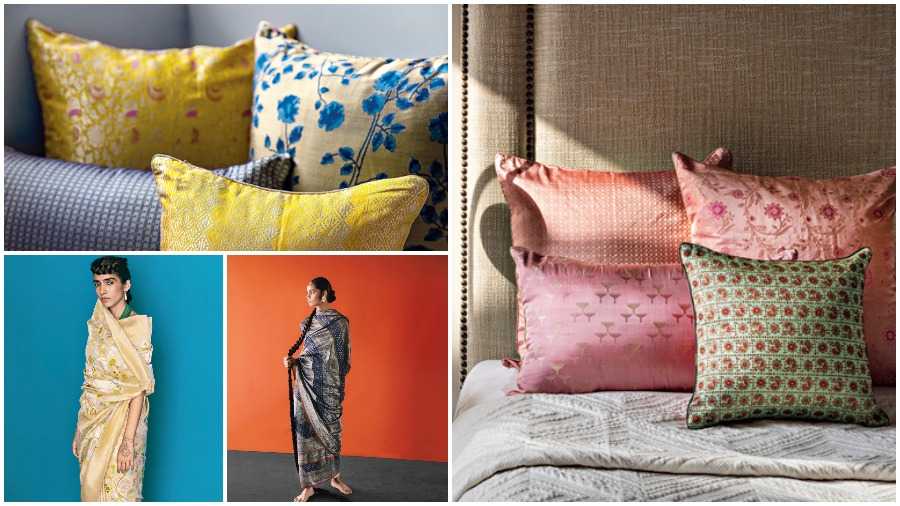 Palak Shah, CEO of Ekaya Banaras, is a dynamic entrepreneur for whom the joy of trying new things is directly proportional to the smile she sees on the faces of the weavers she calls "textile engineers". "The joy is to make a difference and to really create value and to give a new name to the weaving space, to change the position of people on the weavers … Give them that respect so that they can start living a good life and have their next generation come into the business, "she tells us when we call her to discuss some new ventures from Ekaya Banaras – The Revival Project and the launch of her in-house collection. While The Revival Project involves reviving, recreating, and restoring sarees, the house began with reversible cushions made from woven fabrics in indigo blue, dusty pink, antique gold, and pastels. A frank conversation.
Given the saree lover that you are, The Revival Project must have driven you crazy?
More than me, who is going crazy with joy, it is my dad because it is a joy for him to see all these old techniques and to be able to recreate them. Back then, these sarees weren't very complicated in their appearance, but they were complicated in their making. It is an absolute joy for me to see the memories attached to it or to see how well people have taken care of it and how simple some of the sarees are. Over time, we have all entered the "more is more" mindset. In order to charge a certain price for a product, we tend to work more on it, but the beauty is always in "less is more".
How old is the project? Why did you feel the need to do this?
The Revival project had started last year and it was still at the pilot stage where I was just trying to see if I could handle it or do it or how long it would take. To be honest, he's been there for two or three years. We officially launched it this time.
I used to be in conversation with people … a lot of my clients and it was a pressing question for everyone, where they were like, 'I have my grandfather's sari but it is in tatters ". If I tore my saris or my lehngas, I knew I could get it fixed from Benaras. I thought why I couldn't extend the same service to other people? We are only doing Benarasis at the moment.
How is the process going?
The customer first gives us the photo of the product and then we see if we want to recreate or restore it. After you revive or recreate it, we discuss with the weaver how to recreate it and its technical details, then the whole process of creating the sari begins. We ask the customer what he wants … if he wants to change color. Those who give it to us to recreate it are also attached to the design, but the customers who give it to us to repair it, are very attached to the products.
Tell us about some of the pieces that have come down to you …
There was a fabric saree that had come back a long time ago and it looked very simple, but when we sat down with the weaver we realized how complicated it was because the folds of the sari were different colors. You can have a gold chain running through the saree, but in the middle you cannot have a certain color because it is difficult. After months of thinking about how to do this, we thought we should dye the yarn, almost like an ikat sari. So, it became an ikat-meets-Benarasi. It was very beautiful, but another challenge we had in creating more and more the piece was convincing the customer why it is so difficult and expensive.
Is there something in your wardrobe that you would like to restore?
I have my grandfather's lehnga that I want to restore. It's in tatters. When I was a child, I wore a real zari lehnga, made from a Rangkat sari, which is also in tatters. I want to restore that too because those designs are no longer made.
Give us some style tips before the Pujas …
I understand this is a traditional event, I would go completely traditional. I wouldn't try to modernize it and would go back to traditional curtains and recreate it my way.
You have also launched the house edition of Ekaya Banaras with a line of cushions …
The fabrics are all Benarasi, all recycled and recycled fabrics that we decided to reuse and create cushions. We started with cushions because these are the first additions to the house and they are beautiful accents and this is how we can start by adding a little bit of Ekaya to your homes. It's about seeing how people react to our cushions, if they are happy to keep such beautiful and eclectic textiles in the house. Plus, giveaways are one of the main reasons we're releasing it at this point.
Do you like to shop at home? What are you most likely to pick up?
I love to shop at home and pick up carvings and knickknacks for the home … bedding and cushions which is why I chose Ekaya's first house line to be cushions.